What's Interesting For Pet Owners In Penang
Penang, a place known for good food, rich history, and being the birthplace of legendary shoe designer Jimmy Choo, Nevertheless, it is also known for having great a selection of pet-friendly places for pet owners to visit with their fur kids. Here are the suggestions!   
Restaurants/Cafes:
COFE Cafe & Dog Park
Socialize and enjoy some fun indoor activities with your dog, fellow dog lovers and their furry kids at this dog haven in Butterworth, Penang. Not only is it a cosy cafe where you get to dine with your dog, but it also includes a therapeutic swimming pool specially for dogs of all ages and special needs (doggy floats and life vests are provided), as well as a playground, giving your dog the chance to mingle with other dogs in a safe, controlled, and fun environment.
Address: 10 Lorong Mesra Permai 4, Taman Mesra, Butterworth, 13400 Penang.
Contact: +60 10 225 0125/Facebook

Purrfect Cat Cafe
The first cat cafe in Penang, this Purrfect cat-friendly cafe has been renowned as a 'cat paradise' that is a must-visit for all feline lovers! Enjoy a cup of coffee and choose from a selection of fresh cakes as you dine in the cat-themed cafe whilst surrounded by a diverse litter of cats and kittens.
Address: 53 Jalan Muntri, Georgetown, 10200, Penang
Opening Hours: 11am – 9:30pm daily.
Contact: 04 261 1197/Facebook/Instagram
Corgi & The Gang Pet Cafe
One of the latest dog cafes in Penang, this dog haven is a must-visit for you and your furkids to enjoy! Located in the one of the houses at Mount Erskine in northeastern Penang, Corgi & the Gang pet cafe offers more than just edible, affordable sweet and savoury treats (their waffles are a must-try!) for you and your furry friend, but also a playground beside the main dining area that is specially designed for dogs and dog owners to enjoy!
Address:
80P, Jalan Mount Erskine, Mount Erskine, Tanjung Tokong
10470 Penang, Malaysia
Opening Hours:
Monday – Friday: 12pm-10pm
Saturday & Sunday: 10am-10pm
Contact: 04-890 1708/Facebook
JDogHouse & Cafe
The first, and largest dog petting cafe in Malaysia, JDogHouse Cafe is home to more than 15 dogs in residence for animal lovers to interact with and even adopt. The business operates as a cafe, dog cafe, pet-shop, pet hotel, and grooming service also complete with a dedicated petting zone where customers can feed, pet, and play with a variety of adorable dogs and puppies.
In the cafe side of things, JDogHouse offers hand crafted Western cuisines, desserts and freshly brewed coffee. Pet food is also available to purchase, giving dog owners and their beloved pets the chance to dine, play, and socialize in a dog haven.
Address: 72-2-35, Arena Curve, Jalan Mahsuri, 11950 Bayan Lepas, Pulau Pinang, Malaysia
Opening Hours: 10am-10pm daily. Tuesday Closed.
Contact: +60 12-899 9783/Facebook
Veterinary Clinics:
Windsor Animal Hospital
Offers a wide range of healthcare services and programmes as well as consultation for walk-in customers. The hospital is staffed by a team of veterinary surgeons, laboratory technicians, animal technicians and handlers who aim to provide state of the art veterinary care and deliver thorough, efficient and compassionate care to pets and their owners.
Address:
C-G-7 Vantage Desiran
Jalan Desiran Tanjung
Tanjung Tokong
Penang, 10470
Opening Hours: 9am-9pm daily.
Contact: 04 899 0055/+604 8990055 (For Emergencies and Critical Care)/Website
Pawsitive Pet Animal Clinic
Located in Simpang Ampat, Pawsitive Pet Animal Clinic is operated by a large team of veterinary professionals who strongly believe in providing the very best preventative healthcare for your pets at affordable, transparent prices. The clinic offers a range of treatments from emergency care to consultations for walk-in customers.
Address: 
45 Lorong22/SS1 Bandar Tasek Mutiara,
14120 Simpang Ampat, Pulau Pinang
Opening Hours: 
Tuesday – Saturday: 10am-2pm, 6pm-9pm
Sunday: 10am-2pm
Closed on Mondays.
Contact: 0108838739/Facebook/Website
Pava's Animal Clinic
Regarded as one of the best veterinary clinics in Penang, Pava's Animal Clinic offers a wide variety of professional treatment and healthcare services by the highly regarded doctors Dr. Pavabakran, Dr Shobhan, and Dr. Trishul, who aim to provide animals and pet owners an efficient, caring, and educational experience.
Address: 201, Jalan Utara, Kampung Kastam, 11700 Gelugor, Pulau Pinang, Malaysia
Opening Hours:
Monday – Friday: 10am-2pm, 4pm-8pm.
Saturday: 10am-12pm.
Sunday Closed.
Contact: +60 16-490 7290/Facebook
An Extensive list can be found by visiting the SPCA Penang website:
http://spca-penang.net/veterinary-clinics-penang/
Pet Services (Including Boarding and Grooming):
Furry Kids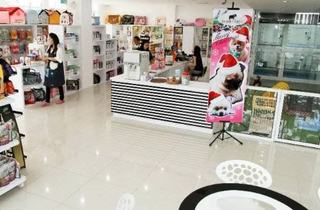 Located at Straits Quay, Furry Kids operates as a both a pet hotel and pet spa that prioritises space and comfort for all their customers. They also offer various goods and services including day care, grooming, pet food, and accessories that will cater towards your pet's needs and desires, as well as an open playground for your furry kids to play in! Pets in residence will also be taken on daily walks during their stay and will also be monitored 24/7 to ensure that every pet is secure and safe.
Address:
3B-G-2 Strait Quay,
Jalan Seri Tanjung Pinang, 10470
Tanjung Tokong,Pulau Pinang
Contact: 048902833/Facebook

Hahapets
Operating as a pet boarding, grooming, and photography (yes, photography) business, Hahapets strives to become one of the most trusted pet sitters in Malaysia that offers a safe, comfortable, fun, and affordable place for your furkid.
Address: 
37 Lorong Permai 2
11700 Penang, Malaysia
Opening Hours:
10am-5pm daily.
Contact: 016-553 9013/Facebook/Instagram

Tinkerbell's Pet Kingdom
Tinkerbell's Pet Kingdom offers a range of services for your cat(s) and dog(s) including washing and blowdry, ticks and flea treatment, nail and ear cleaning, and full grooming at selected prices depending on the type of pet and your pet's size (prices range from as low as RM8 to RM110!)
Cats:
Shower & Blow Dry: RM40
Full Groom: RM 80
Dogs:
Nail & Ear Cleaning: RM8
Medicated Shampoo: RM10
Ticks & Flea Treatment: RM10
Small Breeds:
Full Basic: RM35
Full Groom: RM80
Medium & Large Breed:
Shower & Blow Dry: RM70
Full Basic: RM110
Full Groom: RM150
Address: 
89 Jalan Gajah, Tanjung Bungah
11200 Penang, Malaysia
Opening Hours:
11am-8pm daily. Closed on Wednesdays.
Contact: 04-890 8989/Facebook
Parks
Casa Permai Central Park
Located in Tanjung Bungah, this park is perfect for those who just want to sit and relax whilst your pet(s) run around in an open, even ground. It is also an ideal location for owners to play frisbee or catch with their dog rather than just simply strolling around the park as the main form of exercise.
Lebuhraya Rose Park
Also known as 'Rose Avenue', this park is located in a leafy neighbourhood in Georgetown, and is a great place to take your dog for a quick stroll, especially if they are older in age as the ground is flat. However, keep in mind that it is a residential area (hence, there are many cars and people around), so always be on the look-out for your pet!
Japanese Garden
This small yet spacious Japanese Garden is located amongst many other gardens, making it an ideal place for those who fancy a serene stroll with their pup around a picturesque environment. Boasting with greenery that includes lush green trees and flourishing flowers, it is a lovely place to walk, play, and exercise with your beloved canine friend.