Let's Explore Pet Cafes Out Of Kuala Lumpur!
Spotlight: Woof Station (Melaka)
Entertainment and Education are the forces which elevate the Woof Station into becoming our top pick. Although customers are NOT allowed to bring their own dogs into the cafe, Woof Station brings a refreshing experience of dining with dogs that separates them from all other dog cafes. Driven by a passion for dogs and animal welfare, this dog café is more than just a cosy place for families and animal lovers to enjoy a selection of freshly brewed coffee and delicious snacks alongside the adorable dogs in residence. Woof Station also helps to educate customers on how to handle and interact with the dogs so as to increase the value of each guest's dining experience as well as enlighten them with new techniques of training and communicating with their own dogs (a crucial skill that every dog owner should possess, especially if they own a house dog).
Woof Station further heightens the customer experience of being one with the dogs through their unique seating, which stems from the idea of creating an open, house-like atmosphere for customers to explore and play with the dogs freely. However, customers are welcome and encouraged to approach any member of staff if they have any questions about how to handle dogs. Customers are not solely restricted to dining on chairs and table, but they also have the option to sit on the floor amongst the dogs. Currently, there are three dogs - two Huskies and one Samoyed - residing in the cafe, with an old English Sheepdog puppy on the way, all of whom are trained and disciplined by the owner himself. Therefore, customers need not worry about the dogs consuming their food as they have been effectively trained NOT to do just that!
Over the weekday, I was given the opportunity to interview the owner himself, who gave me an amazing insight into Woof Station.
Idea/Motivation behind the cafe:
One simple motivation. A powerful impact: To share his passion for dogs to the public, and more importantly, to heighten and solidify the bond between dogs and humans. How? By creating a safe, friendly, open space for humans to get up close and personal with the dogs in residence as well as learn about how to fully engage with them.

Business aim(s)/mission(s):
As said before, entertainment and education are the foundations of the cafe's mission. Ultimately, the goal is to provide every customer with a unique, comfortable, personal experience with the dogs in a house-like environment where families, friends, and every member of the community can unwind and enjoy the company of friendly dogs whilst enriching their understanding of canines, and alleviate any wrong impressions they may have about the general temperament of dogs. So don't worry if you're not particularly keen on dogs, Woof Stations aims to give customers the chance to witness a dog's love and change that mindset around!
Love and Respect the dogs, and you will be loved and respected in return".

Aspirations for the future of the business:
Currently, there is still a need to increase awareness on animal welfare and to educate the public about such matters. However, in the future, there are plans to open a professional, proper, clean boarding house alongside the cafe that is fully air-conditioned and comfortable for the dogs - a priority that is stressed in Woof Station.

Dogs in Residence:
The three dogs in residence belong to the owner and the dogs that do come in are imported (typically puppies to be trained and nurtured in the café). And good news for customers who are looking to adopt a dog: Woof Station offers the chance to adopt any dogs that are available upon request. However, to ensure that you are fully equipped and ready to commit many years into caring for a dog, you will have to be interviewed (a procedure that is necessary to protect the welfare of both owner and dog).
Recommendations from the Menu (only available to humans):

As customers are NOT allowed to bring their own dogs, Woof Station only provides food and beverages to humans. Currently, the cafe serves snacks and a variety of imported drinks from all over the world including Austrian coffee, lemonade from Greece, and hot chocolate from UK. This is perfect for anyone wanting to satisfy their taste-buds with sips from a number of countries!
Location: 13 Jalan KLJ1-A, Taman Kota Laksamana Jaya, 75200 Melaka, Malaysia
Opening Hours: 2:30pm-11pm daily. Closed on Monday and Thursday.
Contact: +60 12-356 6448/Facebook
The Huskitory (Melaka)
The most renowned pet-friendly cafe in Melaka (and only Husky Haven in Malaysia), The Huskitory is the place to visit for all animal enthusiasts, especially husky lovers! Inside the cosy cafe, you can enjoy a range of yummy cakes and coffee alongside adorable huskies to keep you company and shower you with love and cuteness. In addition, they also act as a pet store and grooming salon to give pet owners and animal lovers three in one! So if you fancy a refreshing break from all the historical landmarks, be sure to check out The Huskitory where you can also learn all about Huskies!
Location:
27, Jalan Taman ASEAN, Taman ASEAN, 75250 Malacca.
Operating hours:
Tuesday – Sunday: 12:30pm – 10:30pm
Contact: 06-334 2602/Facebook
Purrfect Cat Cafe (Penang)
The first cat cafe in Penang, this Purrfect cat-friendly cafe has been renowned as a 'cat paradise' that is a must-visit for all feline lovers! Enjoy a cup of coffee and choose from a selection of fresh cakes as you dine in the cat-themed cafe whilst surrounded by a diverse litter of cats and kittens.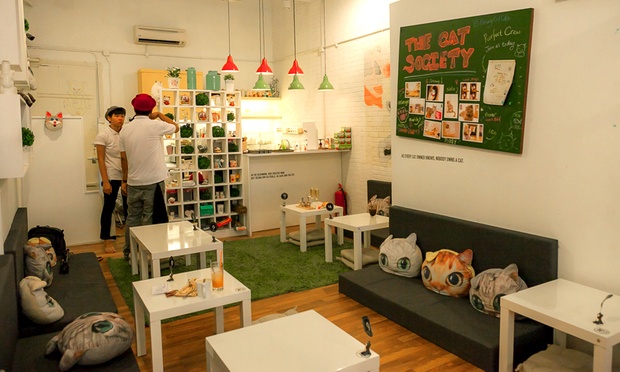 Location:
53, Jalan Muntri, Georgetown, 10200 Penang.
Operating hours:
Monday – Sunday: 11:00am – 9:30pm
Contact: 04-261 1197/Facebook/Instagram
Bean Me Up (Johor Bahru)
This pet cafe introduces a cuteness overload to Johor Bahru where animal lovers and their pets can enjoy the services they provide! Bean Me Up serves to welcome all furkids and their owners into their friendly environment complete with a range of delicious, affordable refreshments for both humans and pets!
Location:
No. 2, Jalan Kempas Utama 3/7, Taman Kempas Utama, 81200 Johor Bahru.
Operating hours:
11:30am – 8:30pm daily. Closed on Wednesday.
Contact: 013-393 5228/Facebook
Bark & Bean (Penang)
"Fusing local café culture with our furry kids' lifestyle"
Bark&Bean welcomes all animal lovers into their house of delicious food for both humans and pets! This pet-friendly cafe is perfect for those who don't have any furkids themselves as not only do you get to dine alongside adorable animals, but you also get to play and pet all the animals in residence at your own leisure. And for those with pets, you are more than welcome to bring them along too!
Location:
18, Jalan Pantai Jerjak, Sungai Nibong, Bayan Lepas, 11900 Penang.
Operating hours:
Monday – Thursday: 11:00am – 9:00pm
Friday – Saturday: 11:00am – 10:00pm
Sunday: 11:00am – 9:00pm
Contact: 04-657 7388/Website/Facebook
JDogHouse & Cafe (Penang)
The first, and largest dog petting cafe in Malaysia, JDogHouse Cafe - located in Penang - is home to more than 15 dogs in residence for animal lovers to interact with and even adopt. The business operates as a cafe, dog cafe, pet-shop, pet hotel, and grooming service also complete with a dedicated petting zone where customers can feed, pet, and play with a variety of adorable dogs and puppies. There is, however, an admission fee to enter the petting zone which consists of one beverage per person. In addition, there is strictly no food/snacks allowed into the zone, and customers  must always sanitize their hands before entering the petting zone and touching the dogs.
In the cafe side of things, JDogHouse offers hand crafted Western cuisines, desserts and freshly brewed coffee. Pet food is also available to purchase, giving dog owners and their beloved pets the chance to dine, play, and socialize in a dog haven.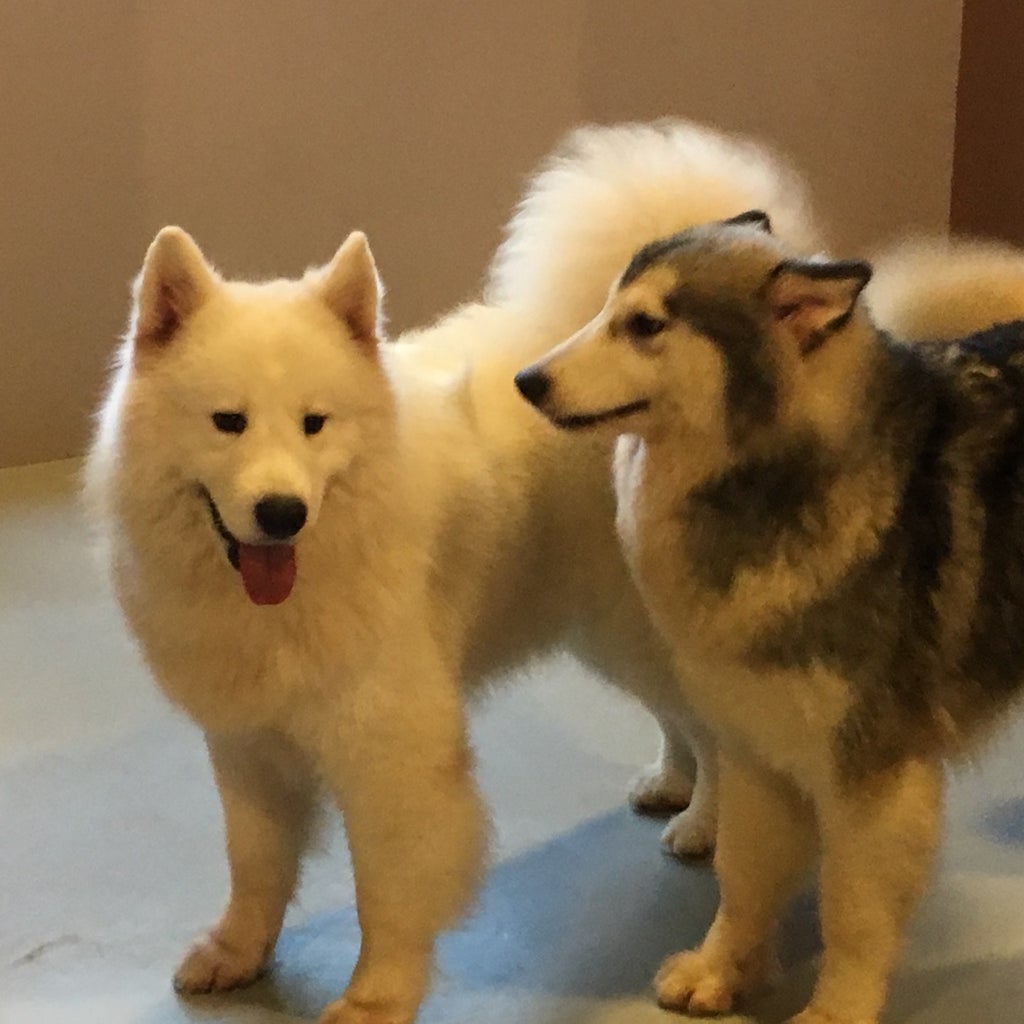 Address: 72-2-35, Arena Curve, Jalan Mahsuri, 11950 Bayan Lepas, Pulau Pinang, Malaysia
Opening Hours: 10am-10pm daily. Tuesday Closed.